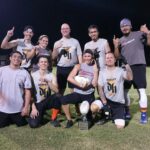 CAMP X | Sport & Social Camp 2019
Event Coordinator - Fraser Laveay
Summer Camp For "Adults"
Make new friends, relive your childhood, party all night, play all day and make memories to last a lifetime!
Escape the Phoenix heat to Tonto Creek Camp, a multi-million dollar facility planted in the middle of the Payson forest & attempt to be crowned Winner Of The Woods!
We will have all of your favorite sports & drinking games, relays, theme parties, hiking, DJ, yoga and more! Your package includes all meals, your combo sports/drinking games, lodging, epic after-parties and tons of drinks on us!
Participate as much or as little as you want. Play every sporting event, win beer pong and dominate slip-cup; or go for a hike, play in the waterfall, do some yoga and post-up at the mimosa & bloody mary bar!
Get your team of 10 together or come as a free agent and get ready for a combination of sports, drinking, skills tournament or just a relaxing weekend in the forest.
Your team will collect points as only one team can be crowned Winner of The Woods! With that said, there will be prizes for best dressed, sportsmanship, most entertaining and more!
We have an entire weekend packed with everything you could ask for to keep you entertained, active and a maybe a little tipsy!
Schedule
Friday Night: Welcome reception, dinner, campfire & s'mores, drinking games and all-night theme party.
Saturday Morning: Yoga, hiking, mimosa & bloody mary bar and breakfast.
Saturday Day: Sports, drinking & team games followed by happy hour & relax time.
Saturday Night: Dinner, Campfire, S'mores, Karaoke and ended with an all-night theme party!
Sunday: Similar to Saturday your morning will be relaxation, breakfast and maybe some hair of the dog! Then new games to challenge you and see who will be crowned the Winner Of The Woods! 
Friday, September 20, 2019
5:00 PM
Friday Night Fever – Welcome Reception, Dinner & Party!
Saturday, September 21, 2019
Saturday Morning Revival. Hiking, yoga, breakfast, bloody mary & mimosa bar.
Game Time! Sports & Drinking Tournament Commences! (With a break for lunch)
Happy Hour & Relaxation. Go for a dip in the waterfall, have a nap, drink more or go change and get ready!
Saturday Night Calm! Dinner, campfire, s'mores, karaoke, drinking games and more!
Saturday Night Storm! Theme party with lights, DJ and it ends when you do!
Sunday, September 22, 2019
Sunday Hair Of The Dog: Dip in the waterfall, Yoga, Hiking, sleep in, bloody mary & mimosa bar and breakfast.
Sunday Funday! More games, lunch, playoffs and who will be crowned Winner Of The Woods!?!?
Tell stories about the amazing time you had…..