Thursday Night Adult Flag Football
League Coordinator - Jeramy Bollinger
Meet & Greet for New Free Agents & Team Captains July 9th
NEW SEASON Kicks Off July 16th 2020
Our Thursday flag football league is a fast pace version of the game.  6 on 6 format. The league is NON-CONTACT with an emphasis on the passing and running game.
Leagues run year round and our Thursday night league is east valley based.  Games are generally played in Tempe, Mesa or Chandler
Need more info, here you go:
What?  6 on 6 flag football.  Triple threats flag provided.  10 week season. 7 league games followed by Playoffs if you make them.
Where? Winter season is at West Wood High School in Mesa.
When?  Thursday Nights between 7-10 pm
Who?  Adults 18+ all skill levels. Open to Male and Female.
Info? Games run 45 mins.  We use licensed flag referees.  Awards for winning teams including a special MVP award.
How?  Look right and select payment to sign up or check out the FAQ to get more info on the leagues rules and format.
Take a moment to join AZ Sports League Flag Football Community on Facebook to find teams and join the discussion in our football group.
Current Champions // Honey Badgers // Fall 2019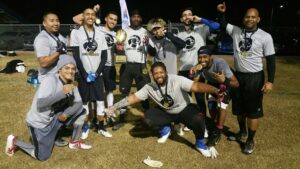 Standings
| Team Name | Jersey Color | Won | Tied | Lost | Points For | Points Against |
| --- | --- | --- | --- | --- | --- | --- |
| GROUP A: | | | | | | |
| Wonderboys | white | 7 | 0 | 0 | 262 | 93 |
| Westside Vale | Black | 5 | 0 | 2 | 175 | 71 |
| Honey Badgers | Gray | 5 | 0 | 2 | 174 | 81 |
| TCC | opposite of other team | 5 | 0 | 2 | 175 | 93 |
| Blue Flamingos | Light Blue | 3 | 0 | 4 | 130 | 171 |
| Show us your TDs | Red | 3 | 0 | 4 | 158 | 148 |
| Smooth Operators | Black | 2 | 1 | 4 | 118 | 164 |
| Cherry Poppers | Red | 2 | 0 | 5 | 87 | 199 |
| 3 bet | Black | 0 | 0 | 7 | 37 | 232 |
| | | | | | | |
| GROUP B: | | | | | | |
| Desert Heat | Light Gray | 6 | 0 | 1 | 276 | 122 |
| GQ and the Temptations | Black | 6 | 0 | 1 | 185 | 84 |
| Gimmie that Loot | Red/black | 6 | 0 | 1 | 205 | 156 |
| Gabby's Boys | white/gray | 5 | 0 | 2 | 205 | 158 |
| TFA | Blue | 3 | 1 | 3 | 158 | 103 |
| No Fly zone | Black | 3 | 1 | 3 | 164 | 147 |
| Goon Squad | Maroon | 2 | 1 | 4 | 135 | 188 |
| Light'em up | Red | 1 | 1 | 5 | 124 | 177 |
| Degenerates | White | 1 | 0 | 6 | 125 | 224 |
| Milwaukee Millipedes | Purple | 0 | 0 | 7 | 58 | 266 |
Schedule
Date
Time
Fixture
Score
Location
Week 1
ON BYES: Desert Heat, TCC, Honey Badgers,Gimme the loot
Jan 16th 2019

7:00pm
Smooth Operators vs 3 Bet
21-13
WESTWOOD HIGH SCHOOL
Jan 16th 2019
7:45pm
Cherry Poppers vs Show us your TDs
13-20
WESTWOOD HIGH SCHOOL
Jan 16th 2019
8:30pm
Westside Vale vs Johnson Fitz
26-7
WESTWOOD HIGH SCHOOL
Jan 16th 2019
9:15pm
Wonder Boys vs Blue Flamingos
36-0
WESTWOOD HIGH SCHOOL
Jan 16th 2019
7:00pm
Degenrates vs Milwaukee Millipedes
26-12
WESTWOOD HIGH SCHOOL
Jan 16th 2019
7:45pm
No Fly Zone vs GQ and the Temptations
6-26
WESTWOOD HIGH SCHOOL
Jan 16th 2019
8:30pm
TFA vs Goon Squad
31-13
WESTWOOD HIGH SCHOOL
Jan 16th 2019
9:15pm
Gabby Boys vs Light'em up
22-20
WESTWOOD HIGH SCHOOL
Week 2
ON BYES: Cherry Poppers,Show us your TDs, No Fly Zone, GQ Temptations
Jan 23th 2019
7:00pm
Wonderboys vs Westside Vale
18-12
WESTWOOD HIGH SCHOOL
Jan 23th 2019
7:45pm
3 Bet vs Blue Flamingos
6-24
WESTWOOD HIGH SCHOOL
Jan 23th 2019
8:30pm
Smooth Operators vs The Johnson Fitz
21-21
WESTWOOD HIGH SCHOOL
Jan 23th 2019
9:15pm
Honey Badgers vs TCC
20-14
WESTWOOD HIGH SCHOOL
Jan 23th 2019
7:00pm
Gabby Boys vs Degenrates
36-18
WESTWOOD HIGH SCHOOL
Jan 23th 2019
7:45pm
Goon Squad vs Light'em up
18-19
WESTWOOD HIGH SCHOOL
Jan 23th 2019
8:30pm
Milwaukee Millipedes vs TFA
0-40
WESTWOOD HIGH SCHOOL
Jan 23th 2019
9:15pm
Gimmie the Loot vs Desert Heat
32-22
WESTWOOD HIGH SCHOOL
Week 3
ON BYES: Westside Vale, Johnson Fitz, Degenerates, Milwaukee Millipedes,
Jan 30th 2019
7:00pm
Blue Flamingos vs Cherry Poppers
32-6
WESTWOOD HIGH SCHOOL
Jan 30th 2019
7:45pm
Wonderboys vs Show Us your TDs
60-6
WESTWOOD HIGH SCHOOL
Jan 30th 2019
8:30pm
Honey Badgers vs 3 Bet
44-0
WESTWOOD HIGH SCHOOL
Jan 30th 2019
9:15pm
TCC vs Smooth Operators
28-0
WESTWOOD HIGH SCHOOL
Jan 30th 2019
7:00pm
Light'em Up vs No Fly Zone
23-26
WESTWOOD HIGH SCHOOL
Jan 30th 2019
7:45pm
Gabby Boys vs GQ and the Temptations
7-20
WESTWOOD HIGH SCHOOL
Jan 30th 2019
8:30pm
Goon Squad vs Gimme the Loot
44-38
WESTWOOD HIGH SCHOOL
Jan 30th 2019
9:15pm
Desert Heat vs TFA
30-12
WESTWOOD HIGH SCHOOL
Week 4
ON BYES : Wonderboys, Blue Flamingos, Gabby Boys, Light'em Up,
Feb 6th 2019
7:00pm
The Johnson Fitz vs Show Us your TDs
24-13
WESTWOOD HIGH SCHOOL
Feb 6th 2019
7:45pm
Honey Badgers vs Smooth Operators
20-22
WESTWOOD HIGH SCHOOL
Feb 6th 2019
8:30pm
TCC vs 3 Bet
29-6
WESTWOOD HIGH SCHOOL
Feb 6th 2019
9:15pm
Westside Vale vs Cherry Poppers
42-0
WESTWOOD HIGH SCHOOL
Feb 6th 2019
7:00pm
Milwaukee Millipedes vs GQ and the Temptations
0-40
WESTWOOD HIGH SCHOOL
Feb 6th 2019
7:45pm
TFA vs Gimmie the Loot
13-18
WESTWOOD HIGH SCHOOL
Feb 6th 2019
8:30pm
Goon Squad vs Desert
Heat
6-52
WESTWOOD HIGH SCHOOL
Feb 6th 2019
9:15pm
No Fly Zone vs Degenerates
28-12
WESTWOOD HIGH SCHOOL
Week 5
ON BYES: TFA, Goon, Squad, Smooth Operators, 3 bet
Feb 13th 2019
7:00pm
Wonderboys vs TCC
35-27
WESTWOOD HIGH SCHOOL
Feb 13th 2019
7:45pm
Blue Flamingos vs Honey Badgers
6-28
WESTWOOD HIGH SCHOOL
Feb 13th 2019
8:30pm
Show us your TDs vs Westside Vale
0-24
WESTWOOD HIGH SCHOOL
Feb 13th 2019
9:15pm
Cherry Poppers vs The Johnson Fitz
20-13
WESTWOOD HIGH SCHOOL
Feb 13th 2019
7:00pm
Desert Heat vs Gabby Boys
46-30
WESTWOOD HIGH SCHOOL
Feb 13th 2019
7:45pm
Light'em Up vs Gimmie the Loot
26-27
WESTWOOD HIGH SCHOOL
Feb 13th 2019
8:30pm
Degenerates vs GQ and the Temptations
21-26
WESTWOOD HIGH SCHOOL
Feb 13th 2019
9:15pm
No Fly Zone vs Milwaukee Millipedes
38-12
WESTWOOD HIGH SCHOOL
Week 6
Feb 20th 2019
7:00pm
Smooth Operators vs Westside vale
13-35
WESTWOOD HIGH SCHOOL
Feb 20th 2019
7:45pm
TCC vs Blue Flamingos

33-19
WESTWOOD HIGH SCHOOL
Feb 20th 2019
8:30pm
Cherry Poppers vs Honey Badgers
6-36
WESTWOOD HIGH SCHOOL
Feb 20th 2019
9:15pm
Show us your TDs vs 3 Bet
58-0
WESTWOOD HIGH SCHOOL
Feb 20th 2019
7:00pm
TFA vs Degenrates
42-0
WESTWOOD HIGH SCHOOL
Feb 20th 2019
7:45pm
Light'em up vs Desert Heat
12-36
WESTWOOD HIGH SCHOOL
Feb 20th 2019
8:30pm
Gimmie the Loot vs No Fly Zone
26-20
WESTWOOD HIGH SCHOOL
Feb 20th 2019
9:15pm
Goon Squad vs GQ and the temptations
12-30
WESTWOOD HIGH SCHOOL
Feb 20th 2019
8:30pm
Wonderboys vs Johnson fitz
28-7
WESTWOOD HIGH SCHOOL
Feb 20th 2019
9:15pm
Gabby Boys vs Milwaukee millipedes
46-14
WESTWOOD HIGH SCHOOL
Week 7
Feb 27th 2019
7:00pm
Westside Vale vs TCC
12-19
WESTWOOD HIGH SCHOOL
Feb 27th 2019
7:45pm
Blue Flamingos vs Smooth Operators
20-18
WESTWOOD HIGH SCHOOL
Feb 27th 2019
8:30pm
3 Bet vs Johnson Fitz
12-26
WESTWOOD HIGH SCHOOL
Feb 27th 2019
9:15pm
Cherry Poppers vs Wonderboys
18-56
WESTWOOD HIGH SCHOOL
Feb 27th 2019
7:00pm
Desert Heat vs Degenerates
42-24
WESTWOOD HIGH SCHOOL
Feb 27th 2019
7:45pm
Light'em up vs TFA
12-12
WESTWOOD HIGH SCHOOL
Feb 27th 2019
8:30pm
No Fly Zone vs Gabby Boys
32-34
WESTWOOD HIGH SCHOOL
Feb 27th 2019
9:15pm
Milwaukee Millipedes vs Goon Squad
14-28
WESTWOOD HIGH SCHOOL
Feb 27th 2019
8:30pm
Gimmie the Loot vs GQ and the temptations
26-7
WESTWOOD HIGH SCHOOL
Feb 27th 2019
9:15pm
Honey Badgers vs Show us your TDs
12-7
WESTWOOD HIGH SCHOOL
Week 8
Mar 5th 2019
7:00pm
3 bet vs Cherry Poppers
0-24
WESTWOOD HIGH SCHOOL
Mar 5th 2019

7:45pm
TCC OPEN FIELD
24-0
WESTWOOD HIGH SCHOOL
Mar 5th 2019
8:30pm
Honey Badgers vs Westside vale
14-26
WESTWOOD HIGH SCHOOL
Mar 5th 2019
9:15pm
Smooth Operators vs Wonderboys
23-29
WESTWOOD HIGH SCHOOL
Mar 5th 2019
7:00pm
Goon Squad vs No Fly Zone
14-14
WESTWOOD HIGH SCHOOL
Mar 5th 2019
7:45pm
Desert Heat vs Milwaukee Millipedes
48-6
WESTWOOD HIGH SCHOOL
Mar 5th 2019
8:30pm
Degenerates vs Gimmie the Loot
24-38
WESTWOOD HIGH SCHOOL
Mar 5th 2019
9:15pm
Gabbys boys vs TFA
30-8
WESTWOOD HIGH SCHOOL
Mar 5th 2019
8:30pm
GQ and the temptations vs Light'em up
36-12
WESTWOOD HIGH SCHOOL
Mar 5th 2019
9:15pm
Show us your TDs vs Blue Flamingos
44-19
WESTWOOD HIGH SCHOOL
Week 9
Mar 12th 2019
7:00pm
Blue Flamingos vs Westside Vale
WESTWOOD HIGH SCHOOL
Mar 12th 2019
7:45pm
Smooth Operators vs Cherry Poppers
WESTWOOD HIGH SCHOOL
Mar 12th 2019
8:30pm
Wonderboys vs 3 Bet
WESTWOOD HIGH SCHOOL
Mar 12th 2019
9:15pm
Honey Badgers OPEN FIELD
WESTWOOD HIGH SCHOOL
Mar 12th 2019
7:00pm
Light'em up vs Degenerates
WESTWOOD HIGH SCHOOL
Mar 12th 2019
7:45pm
No Fly Zone vs TFA
WESTWOOD HIGH SCHOOL
Mar 12th 2019
8:30pm
Goon Squad vs Gabby boys
WESTWOOD HIGH SCHOOL
Mar 12th 2019
9:15pm
Milwaukee Millipedes vs Gimmie the loot
WESTWOOD HIGH SCHOOL
Mar 12th 2019
8:30pm
Desert Heat vs GQ and the Temptations
WESTWOOD HIGH SCHOOL
Mar 12th 2019
9:15pm
TCC vs Show us your TDs
WESTWOOD HIGH SCHOOL
Week 10
Playoffs
Mar 19th 2019
7:30pm
WESTWOOD HIGH SCHOOL
Mar 19th 2019
8:20pm
WESTWOOD HIGH SCHOOL
Mar 26th 2019

WESTWOOD HIGH SCHOOL