Flag Football Leagues
New Season Kicks Off September 20th
E-Mail adam@azsportsleague.com to sign up
Our Flag Football leagues surpass all the others in the valley but our Chandler Flag Football league is the premier one. Our Thursday flag football league which is a fast pace version of 6 v 6. The league is non-contact and designed to be played at a fast pace.  We also offer the occasional one day tournament.
Flag Football Free Agents: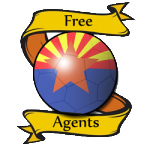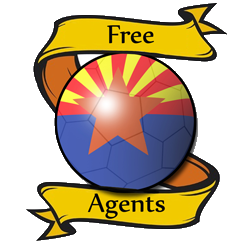 Looking to play Flat Football?  Wander over to our Free Agent page and complete a quick form to get in our database!  That way you can join us on the field for some fast pace non contact flag football fun! Free Agent Info
Flag Football t-shirts and jerseys:
We require all the teams to have matching shirts and numbers for the players.  This is required to help facilitate our roster checks and the stat tracking.  If you do not have matching shirts yet then swing on by the online store and buy some at discounted prices.
Making a break for it: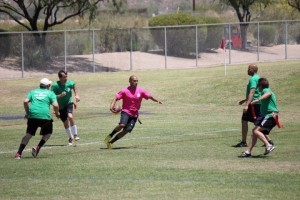 Picture from one of our games.  There were actually more players on the hot pink team then shown. 🙂
Medical Coverage:
Flag Football is a physical sport and although we limit the physical play injuries still occur. The league does not provide coverage for the players but can help you find some if you requested.  There are short term plans available at affordable rates. You need to have your own coverage. The league is not responsible for injuries
Flag Football Tournament and League format:
We have our Flag Football league and tournaments designed to be fast pace and limited to no contact.  We want to emphasize throwing and catching the pig skin and not the physical play.
Flag Football Rosters:
We do require teams to have a roster.  The rosters can be changed for the first few weeks of the season, but at some point we lock them down. The intention of the rosters is to help the referees to track stats and ensure teams do not bring in "ringers" to win critical matches.
Flag Football Payments:
If you're a free agent or team that needs help collecting money let us know.  We understand that joining a flag football team and not knowing the captain makes it hard to faithfully send them money, so we can setup a payment feature to pay your flag football fee online.  It's also beneficial at times for flag football teams to setup an online payment system so they do not have to track their players down.
Flag Football Player Responsibilities:
We have posted a players responsibilities and obligations stating expectations from the participants regardless what league or event they do.  It's the responsibilities for every player to read and heed the policy.  Click here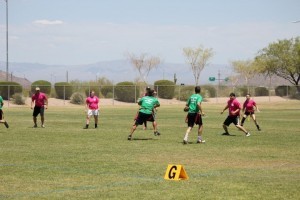 Flag Football Standings
| Team Name | Wins | Ties | loses | Points For | Points Against |
| --- | --- | --- | --- | --- | --- |
| The Free Agents | 1 | 0 | 0 | 38 | 19 |
| Deep Threats | 1 | 0 | 0 | 20 | 12 |
| Unfinished Business | 1 | 0 | 0 | 20 | 14 |
| Sofa King Good | 1 | 0 | 0 | 25 | 20 |
| Liger | 0 | 0 | 1 | 20 | 25 |
| Aztecs | 0 | 0 | 1 | 14 | 20 |
| Wakanda Good | 0 | 0 | 1 | 12 | 20 |
| Horne KIA | 0 | 0 | 1 | 19 | 38 |
Flag Football Schedule
Date
Time
Fixture
Score
Location
Week 1
September 20th 2018
8:00 PM
Sofa King Good vs. Liger
25-20
Westwood High School
September 20th 2018
9:00 PM
Deep Threats vs. Wakanda Good
20-12
Westwood High School
September 20th 2018
8:00 PM
Horne KIA vs. The Free Agents
19-38
Westwood High School
September 20th 2018
9:00 PM
Unfinished Business vs. The Free Agents
20-14
Westwood High School
Week 2
September 27th 2018
8:00 PM
Horne KIA vs. Aztecs
Westwood High School
September 27th 2018
9:00 PM
Ligers vs. The Free Agents
Westwood High School
September 27th 2018
8:00 PM
Sofa King vs. Wakanda Good
Westwood High School
September 27th 2018
9:00 PM
Deep Threats vs. Unfinished Business
Westwood High School
Week 3
August 2nd 2018
8:00 PM
Outlaws vs. The Free Agents
24-29
Dobson High School
Week 4
August 9th 2018
8:00 PM
Unfinished Business vs. Sofa King Good
0-21
Dobson High School
August 9th 2018
9:00 PM
AZ Fire vs. Outlaws
0-21
Dobson High School
August 9th 2018
8:00 PM
Deep Threats vs. The Free Agents
36-12
Dobson High School
Week 5
August 16th 2018
8:00 PM
Free Agents vs. Sofa King Good
18-33
Kiwanis Park – 6005 S All American Way, Tempe, AZ 85283
August 16th 2018
8:45 PM
Unfinished Business vs. Deep Threats
20-44
Kiwanis Park – 6005 S All American Way, Tempe, AZ 85283
August 16th 2018
9:30 PM
AZ Fire vs. Outlaws
0-21
Kiwanis Park – 6005 S All American Way, Tempe, AZ 85283
Week 6
August 30th 2018
8:00 PM
Deep Threats vs. Sofa King Good
27-33 (OT)
Westwood High School –
945 W Rio Salado Pkwy, Mesa, AZ 85201 – Field Off Cherry Street
August 30th 2018
9:00 PM
Outlaws vs. Sofa King Good
0-21
Westwood High School –
945 W Rio Salado Pkwy, Mesa, AZ 85201 – Field Off Cherry Street
August 30th 2018
Westwood High School –
945 W Rio Salado Pkwy, Mesa, AZ 85201 – Field Off Cherry Street
August 30th 2018
8:00 PM
Unfinished Business vs. The Free Agents
0-21
Westwood High School –
945 W Rio Salado Pkwy, Mesa, AZ 85201 – Field Off Cherry Street
August 30th 2018
9:00 PM
Outlaws vs. Unfinished Business
0-21
Westwood High School –
945 W Rio Salado Pkwy, Mesa, AZ 85201 – Field Off Cherry Street
August 30th 2018
Westwood High School –
945 W Rio Salado Pkwy, Mesa, AZ 85201 – Field Off Cherry Street
Week 8
September 6th 2018
8pm
Game 1 – Deep Threats vs. Unfinished Business
945 W Rio Salado Pkwy, Mesa, AZ 85201 – Field Off Cherry Street
September 6th 2018
8pm
Game 2 – The Free Agents vs. Sofa King Good
945 W Rio Salado Pkwy, Mesa, AZ 85201 – Field Off Cherry Street
September 6th 2018
Bowl Game
Winners Of Game 1 & Game 2
945 W Rio Salado Pkwy, Mesa, AZ 85201 – Field Off Cherry Street
September 13th 2018
Open Play – Pickup
945 W Rio Salado Pkwy, Mesa, AZ 85201 – Field Off Cherry Street
September 20th 2018
New Season
945 W Rio Salado Pkwy, Mesa, AZ 85201 – Field Off Cherry Street