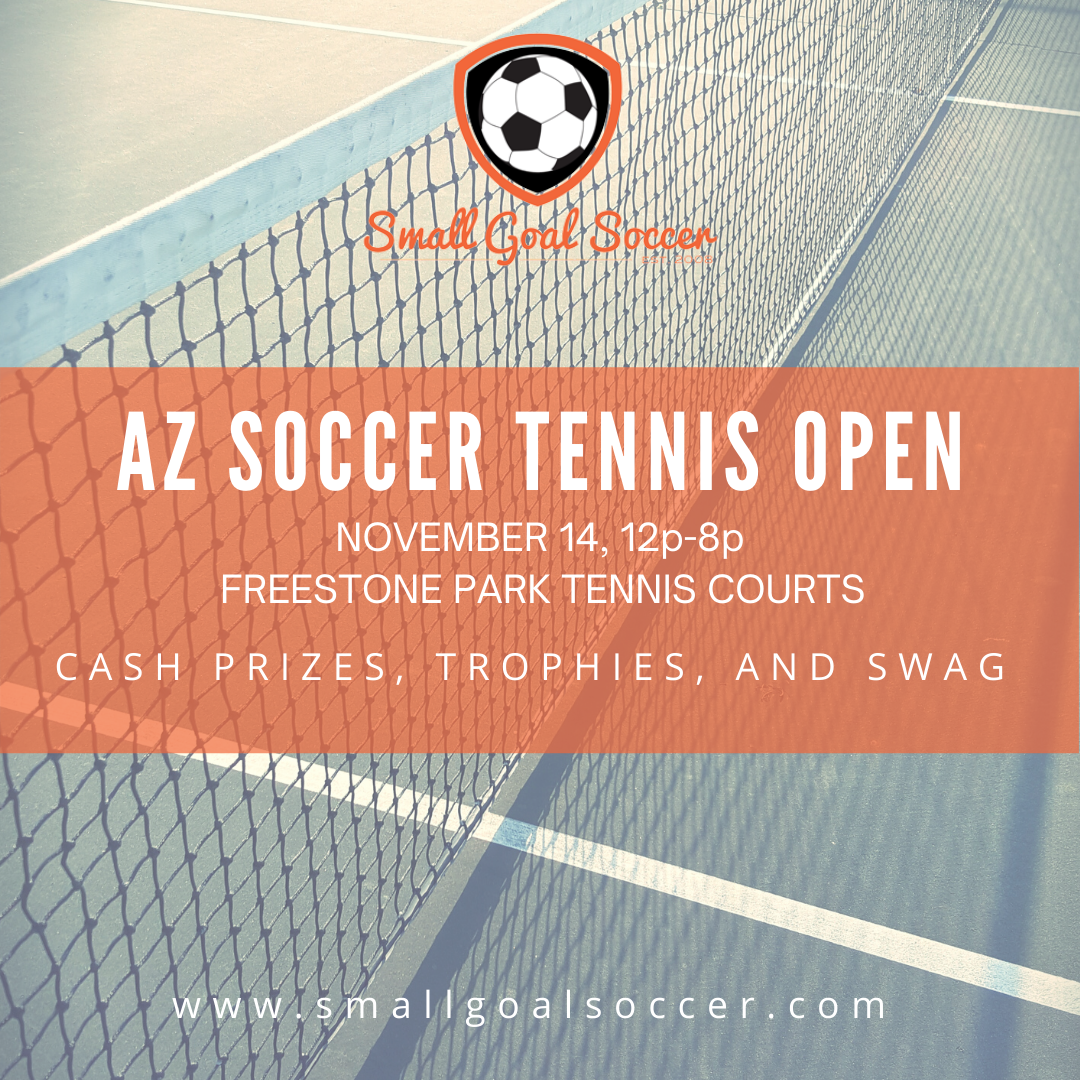 Arizona Soccer Tennis Open
Get your 2v2 or 4v4 teams together and come play in the first ever Arizona Soccer Tennis Open! Only Space for 20 teams in each tournament.
There will be our basketball & co-ed beach volleyball tournaments going on at the same time making it a great sports day and atmosphere!
WHO: 2v2 & 4v4 Tournaments | 3 Games Guaranteed
WHEN: Saturday, Nov. 14th , 2020 | 2v2 – 11am-5pm | 4v4 3pm-8pm
WHERE: Freestone Park Tennis Courts – 1045 E Juniper Ave, Gilbert, AZ 85234
PRIZES: 2v2 – $100 1st Place Cash Prize | 4v4 – $200 1st Place Cash Prize + Trophies & Swag
COST: 2v2 – $50 per team | 4v4 – $100 per team | $30 for Free Agents (Most likely will play in 4v4)
RULES
Scoring
1st Round of games will be best of 3 sets to 15 points – Rally Point – Or 25 minutes. Win by one point.
After 1st round if most games go over 25 minutes, games will shorten to best of 3 sets to 11 points. If games are all very short we will move to sets to 21 points after first round.
Playoff games will be best of 3 to 21 and win by 2 points.
Rally point means a point can come whether you are serving or not. If you serve it into the net or out of bounds that is a point for the other team.
Serving
1 game of rock paper scissors to determine who gets first serve. Rock Paper Scissors Shoot, none of this three style.
From behind the line and ball must bounce before you pass it over the net, no drop kicks.
You can serve anywhere in play on the other side of the net.
The ball can hit the net and go over on a serve.
You lose your serve when you lose a point.
Teams must alternate servers after each change of possession/team serve.
No double faults. If you mess-up the serve it is a point for the other team and their serve.
Game Play
2v2 is single tennis lines | 4v4 is full doubles tennis lines
When receiving the serve the ball can only bounce once and only before you touch the ball.
The ball does not have to bounce however. After your first touch it cannot bounce on your side again.
Your team can touch the ball a maximum of 3x before it goes back over the net, you can hit it over after 1 or 2 touches.
A player has a max of two consecutive touches and there MUST be one transfer to your teammate before the ball can go over the net.
Placing
Min 4 games
1 point for a win 0 for a loss
Tie Breakers For Playoff Seeding

Head to head
Least total points against
Least sets lost