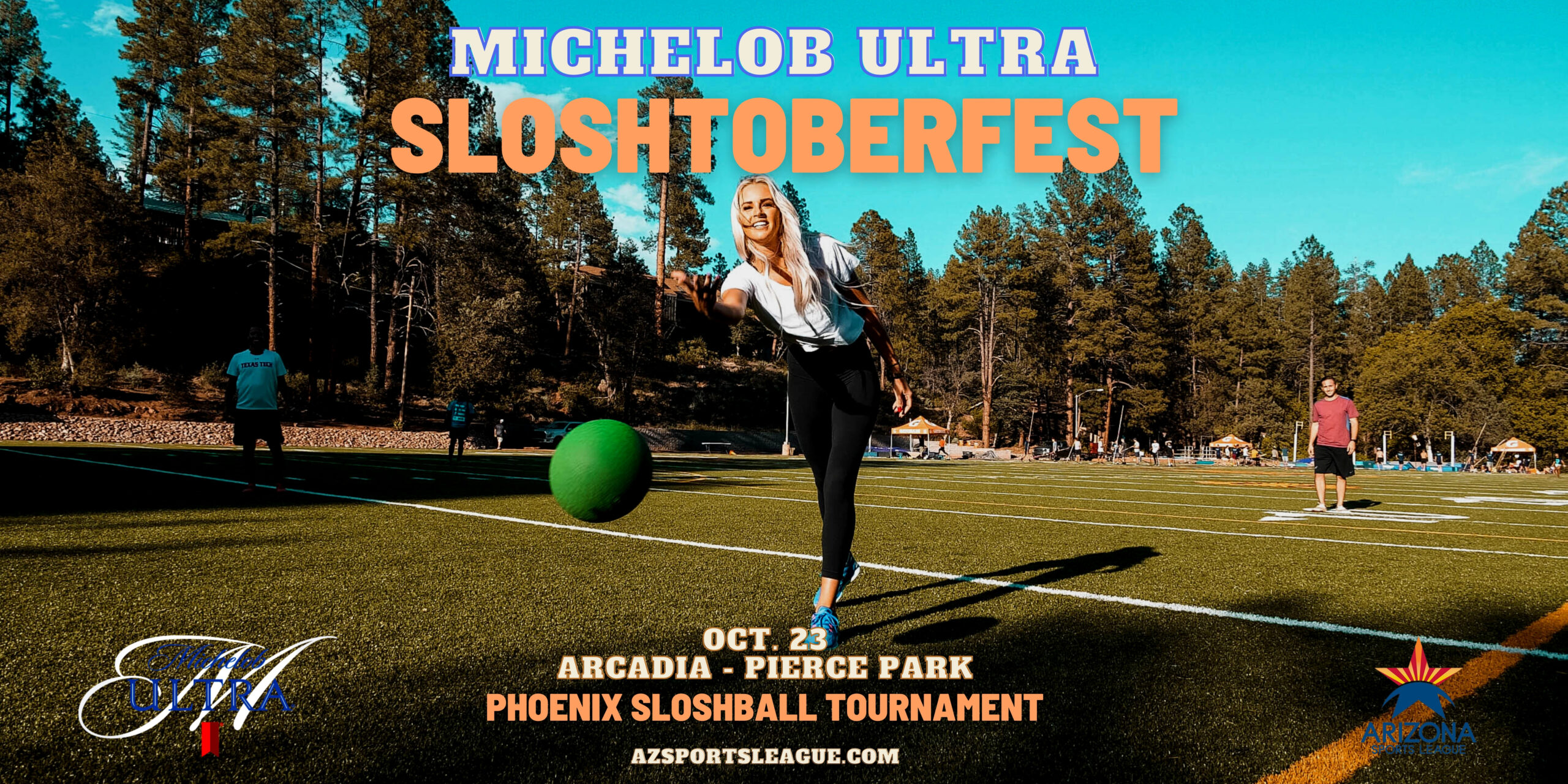 Michelob Ultra Sloshtoberfest | PHX Sloshball Tournament | Oct. 23rd
Phoenix Sloshball Tournament!
Pierce Park | Arcadia | Oct. 23rd
HALLOWEEN TEAM THEME (THINK DODGEBALL MOVIE)
Costume not mandatory
TROPHY FOR BEST DRESSED TEAM
Early Bird Discount Ends Sept. 3oth
4 Games Guaranteed | $100 Bar Credit & Trophy for Winning Team
THE BEST EXCUSE FOR BEER & KICKBALL!
DILLY DALLY AFTER PARTY!
THANK YOU SPONSORS:  Michelob Ultra & DILLY DALLY
WHAT: Sloshball (Kickball with a beer in hand) | 4 Games Guaranteed
HALLOWEEN TEAM THEME (THINK DODGEBALL)
WHO: Anyone who loves Kickball & Beer!
WHEN: Oct. 23rd, 2021. Due to alcohol consumption teams will only play 4-5 hours total. Games from 10am-9pm
WHERE: Pierce Park | 2150 N 46th St, Phoenix, AZ 85008
PRIZES: $100 Bar Tabs & Trophy for winning teams & Trophy for best dressed!
Cost: $325 ($300 Early bird discount) or $40 for Free Agents. Teams of 9-15 players.
Rules:
Overall safety and lack of overconsumption are a priority thus we have some safety rules.

Ubers & Designated Drivers are mandatory
No liquor
Cups half full maximum
Anyone looking overly intoxicated will be asked to stop playing.
There will only be drinks on home base

30 minute games
Zero tolerance for arguing or poor play. This is just FOR FUN and not to be heroes.
All players both on the field and 'at bat' must have a beer in their hand at all times. Fielders may not drop their beer in order to make a play. If a kicker believes that a fielder is playing with an empty cup, the kicker may call a beer check on the fielder. If their cup is empty they must refill and drink. If a fielder makes an out with an empty cup, the runner is safe!
Each team elects one of their own players to pitch to them. Each player only gets 3 pitches.
You must stay in kicking order.
Every player that reaches home must finish their cup.
Team with the most runs over the tournament wins!
Aside from that standard AZSL Kickball rules.
See Recent Events