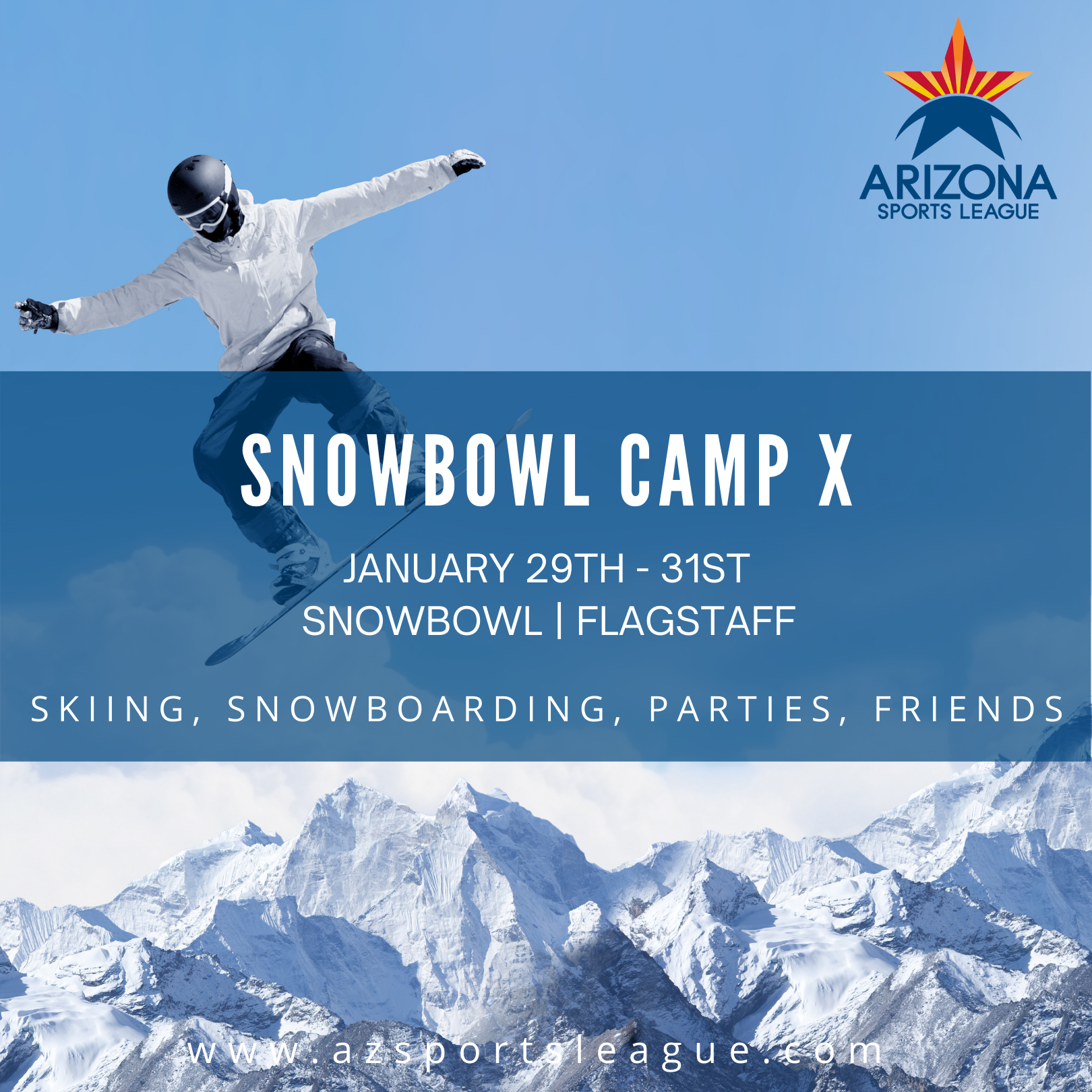 Snowbowl Camp X
Skiing, snowboarding, campfires, theme parties & new friends!
Registration includes 2 nights lodging at Snowbowl Cabins, some drinks provided, drink specials at hotel & 1 lift ticket.
Snowbowl is limiting # of passes they sell due to COVID so purchasing in advance is extremely important so they don't sell out!
Lodging
AZSL has booked out all of Ski Lift Lodge & Cabins near the hill, click to see them
There are only 13 rooms with two beds & there are 3 extra cots available at the resort.
EARLY BIRD DISCOUNT ENDS Jan. 1st!
WHO | Anyone who likes campfires, a great party, snowboarding, skiing and some snow adventures. There are prices for people who don't want to ski or snowboard.
WHEN | Friday Jan. 29th – Sunday Jan. 31st.
Friday | Campfire party & some provided drinks
Saturday | Ski/snowboard & after-party
Sunday | Mimosa & drink specials & Sunday funday or 2nd ski day with self purchased lift ticket.
WHERE | Arizona Snowbowl Ski Resort – Flagstaff
COST | Includes 2 nights lodging, some drinks, drink specials at hotel & Saturday lift ticket (you can buy Sunday separately through mountain). FYI we are not transporting people in shuttles for this event. You will be responsible for your own transportation.
WITH 1 DAY LIFT TICKET | Starts at $260 per person total pending # of people in your room.
WITHOUT LIFT TICKET | Starts at $300 per person total pending # people in your room.
Prices are per person and get lower the more people in your room. You will select how many people are in your room per room occupancy rates but everyone will need to pay individually.
If registering with friends separately, mention who you will be rooming with in your team name area at the end of signing up.
EARLY BIRD DISCOUNT ENDS JAN. 1st
*We will of course refund registration if cancelled due to COVID 19.