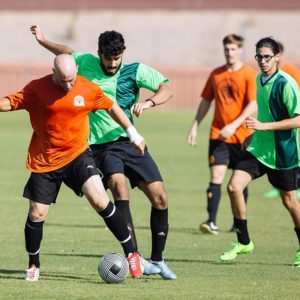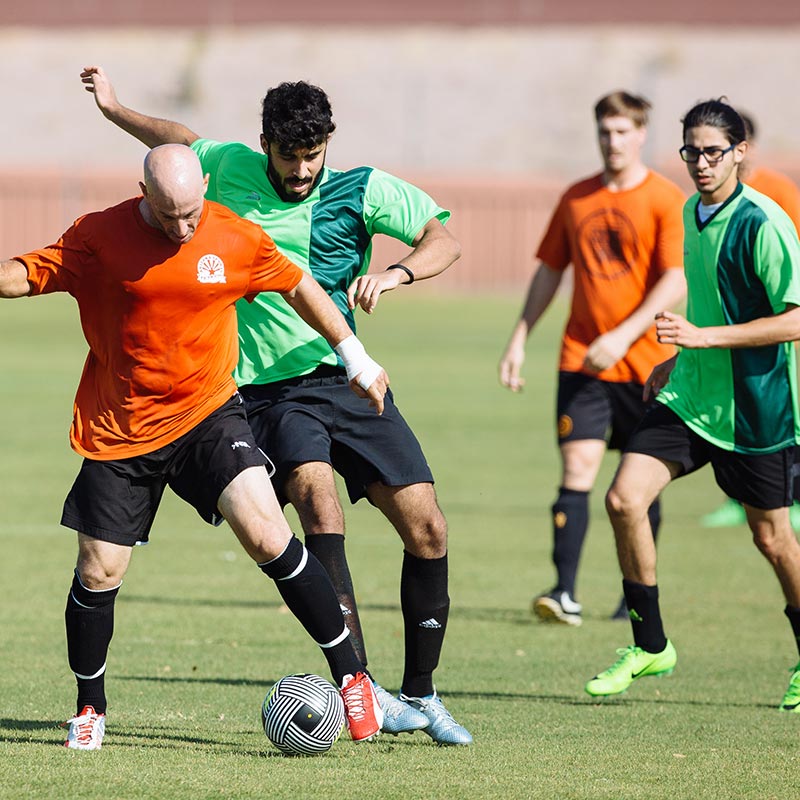 Saturday Mens Adult Soccer
The Phoenix Premier League on Saturdays is the spot for the best adult soccer league action in the valley. It's the full field game and offers both casual and competitive adult soccer games in the east valley with games in Tempe, Chandler, Mesa, and Scottsdale.
We do run soccer leagues in other parts of the valley and host soccer tournaments year round, but our Saturday league runs in the east valley. We started with seven soccer teams in Mesa but the league has steadily grown to over twenty-four teams and counting.
The Saturday soccer league also includes the over 35 division that plays in the afternoon after the youth leagues. Don't miss out – get your team involved in the action now! If you want to join in on the fun…
…Contact Chris for more info: chris@azsportsleague.com
Fall 2019 season starting September 7th
Contact Chris at chris@azsportsleague.com
Open D1 Standings
| team | color | wins | loses | ties | gf | ga | gd | pts |
| --- | --- | --- | --- | --- | --- | --- | --- | --- |
| Carlisle FC | | 6 | 0 | 0 | 35 | 7 | 28 | 18 |
| Fat Boys | | 4 | 1 | 0 | 32 | 10 | 22 | 12 |
| Heavy Petty Zoo | | 3 | 2 | 0 | 20 | 13 | 7 | 9 |
| Green Flag FC | | 3 | 2 | 0 | 10 | 9 | 1 | 9 |
| Buck Utd | | 1 | 4 | 0 | 11 | 27 | -16 | 3 |
| Red Rock FC | | 0 | 4 | 1 | 5 | 18 | -13 | 1 |
| Revenge FC | | 0 | 4 | 1 | 5 | 34 | -29 | 1 |
Open D1 Golden Boot
| Name | Team | Goals |
| --- | --- | --- |
| Bruno Nowendstztern | Fat Boys | 10 |
| Brigham Dallas | Fat Boys | 9 |
| Joseph McCullough | Heavy Petting Zoo | 7 |
| Matheus De Paula | Fat Boys | 6 |
Over 35 D1 Standings
| team | color | wins | loses | ties | gf | ga | gd | pts |
| --- | --- | --- | --- | --- | --- | --- | --- | --- |
| SAFA FC | | 6 | 0 | 0 | 31 | 7 | 24 | 18 |
| Tempe Utd | | 5 | 1 | 0 | 24 | 15 | 9 | 15 |
| AZ Fire | | 2 | 3 | 1 | 11 | 14 | -3 | 7 |
| AZ Wolves | | 2 | 4 | 0 | 9 | 21 | -12 | 6 |
| International | | 1 | 3 | 2 | 7 | 12 | -5 | 5 |
| Fine Young Cannibals | | 0 | 5 | 1 | 4 | 17 | -13 | 1 |
Open D2 Golden Boot
| Player Name | Team | Goals |
| --- | --- | --- |
| Brad Curtis | SAFA FC | 13 |
| Nathan Howard | Tempe Utd | 10 |
Over 35 D2 Standings
| Team | color | wins | loses | ties | gf | ga | gd | pts |
| --- | --- | --- | --- | --- | --- | --- | --- | --- |
| AZ Stars FC | | 5 | 1 | 0 | 14 | 9 | 5 | 15 |
| Barca AZ | | 4 | 0 | 2 | 17 | 4 | 13 | 14 |
| Gold Rush | | 2 | 2 | 2 | 19 | 13 | 6 | 8 |
| Hooligans | | 2 | 4 | 0 | 11 | 14 | -3 | 6 |
| Vikings | | 2 | 4 | 0 | 11 | 19 | -8 | 6 |
| Beersonal | | 1 | 5 | 0 | 12 | 23 | -11 | 3 |
Over 35 Golden Boot
| Player Name | Team | Goals |
| --- | --- | --- |
| Ross Novotny | Gold Rush FC | 7 |
| Cody Nelson | Barca AZ | 4 |
| Jeff Davis | Beersonal | 4 |
Schedule
| Week 1 | Time | Fixture | Division | Result | Location | Field # |
| --- | --- | --- | --- | --- | --- | --- |
| 9/7/19 | 8:00 AM | Carlisle F.C VS. Buck United | Open | 6-2 | Tempe Sports Complex | 1 |
| 9/7/19 | 8:00 AM | Barca vs. Gold Rush | o35 D2 | 2-2 | Tempe Sports Complex | 1 |
| 9/7/19 | 8:00 AM | AZ Fire vs. Tempe United F.C | o35 D1 | 2-4 | Tempe Sports Complex | 1 |
| 9/7/19 | 8:00 AM | SAFA AZ vs. Wolves FC | o35 D1 | 5-1 | Tempe Sports Complex | 1 |
| 9/7/19 | 10:00 AM | Hooligans vs. AZ Stars | o35 D2 | 1-2 | Tempe Sports Complex | 2 |
| 9/7/19 | 10:00 AM | Green Flag vs. Red Rock F.C | Open | 1-0 | Tempe Sports Complex | 2 |
| 9/7/19 | 10:00 AM | International vs. Fine Young Canibals | o35 D1 | 1-1 | Tempe Sports Complex | 2 |
| 9/7/19 | 10:00 AM | Beersonal vs. Vikings | o35 D2 | 1-4 | Tempe Sports Complex | 2 |
| 9/7/19 | 12:00 PM | Fat Boys vs. Heavy Petting Zoo | Open | 6-2 | Tempe Sports Complex | 2 |
| Week 2 | | | | | | |
| 9/14/19 | 8:00 AM | Heavy Petting Zoo vs. Carlisle United | Open | 4-5 | Tempe Sports Complex | 2 |
| 9/14/19 | 10:00 AM | SAFA AZ vs. AZ Fire | o35 D1 | 2-1 | Tempe Sports Complex | 2 |
| 9/14/19 | 12:00 PM | Buck United vs. Green Flag | Open | 2-5 | Tempe Sports Complex | 2 |
| 9/14/19 | 8:00 AM | Fat boys vs. Revenge F.C | Open | 12-0 | Tempe Sports Complex | 3 |
| 9/14/19 | 10:00 AM | Fine Young Canibals vs. Tempe United F.C | o35 D1 | 2-5 | Tempe Sports Complex | 3 |
| 9/14/19 | 8:00 AM | Wolves vs. International | o35 D1 | 2-1 | Tempe Sports Complex | 4 |
| 9/14/19 | 10:00 AM | Barca vs. Vikings | o35 D2 | 2-0 | Tempe Sports Complex | 4 |
| 9/14/19 | 8:00 AM | Hooligans vs. Beersonal | o35 D2 | 2-4 | Tempe Sports Complex | 5 |
| 9/14/19 | 10:00 AM | Gold Rush vs. AZ Stars F.C | o35 D2 | 2-4 | Tempe Sports Complex | 5 |
| Week 3 | | | | | | |
| 9/21/19 | 8:00 AM | Carlisle F.C vs. Red Rock F.C | Open | 2-0 | Tempe Sports Complex | 2 |
| 9/21/19 | 10:00 AM | Fat Boys vs. Buck United | Open | 10-2 | Tempe Sports Complex | 2 |
| 9/21/19 | 12:00 PM | Green Flag vs. Revenge F.C | Open | 2-0 | Tempe Sports Complex | 2 |
| 9/21/19 | 8:00 AM | International vs. Tempe united F.C | o35 D1 | 0-1 | Tempe Sports Complex | 3 |
| 9/21/19 | 10:00 AM | Wolves vs. AZ Fire | o35 D1 | 1-2 | Tempe Sports Complex | 3 |
| 9/21/19 | 8:00 AM | SAFA AZ vs. Fine Young Canibals | o35 D1 | 3-1 | Tempe Sports Complex | 4 |
| 9/21/19 | 10:00 AM | Hooligans vs. Vikings | o35 D2 | 5-2 | Tempe Sports Complex | 4 |
| 9/21/19 | 8:00 AM | Gold Rush vs. Beersonal | o35 D2 | 8-5 | Tempe Sports Complex | 5 |
| 9/21/19 | 10:00 AM | Barca vs. AZ Stars F.C | o35 D2 | 5-0 | Tempe Sports Complex | 5 |
| Week 4 | | | | | | |
| 10/5/19 | 8:00 AM | Carlisle United vs. Green Flag | Open | 3-0 | Tempe Sports Complex | 2 |
| 10/5/19 | 10:00 AM | Heavy Petting Zoo vs. Buck United | Open | 5-0 | Tempe Sports Complex | 2 |
| 10/5/19 | 12:00 PM | Revenge F.C vs. Red Rock F.C | Open | 3-3 | Tempe Sports Complex | 2 |
| 10/5/19 | 8:00 AM | SAFA AZ vs. Tempe United F.C | o35 D1 | 8-3 | Benedict Park | 3 |
| 10/5/19 | 10:00 AM | International vs. AZ Fire | o35 D1 | 2-2 | Benedict Park | 3 |
| 10/5/19 | 12:00pm | Fine Young Canibals vs. Wolves | o35 D1 | 0-3 | Benedict Park | 3 |
| 10/5/19 | 8:00 AM | Barca vs. Beersonal | o35 D2 | 5-1 | Benedict Park | 4 |
| 10/5/19 | 10:00 PM | AZ Stars F.C vs. Vikings | o35 D2 | 4-1 | Benedict Park | 4 |
| 10/5/19 | 12:00 PM | Gold Rush vs. Hooligans | o35 D2 | 0-2 | Benedict Park | 4 |
| Week 5 | | | | | | |
| 10/12/19 | 8:00 AM | Carlisle United vs. Revenge F.C | Open | 15-1 | Tempe Sports Complex | 2 |
| 10/12/19 | 10:00 AM | Green Flag vs. Fat Boys | Open | 2-4 | Tempe Sports Complex | 2 |
| 10/12/19 | 12:00 PM | Fine Young Canibals vs. AZ Fire | o35 D1 | 0-2 | Tempe Sports Complex | 2 |
| 10/12/19 | 8:00 AM | Red Rock F.C vs. Heavy Petting Zoo | Open | 1-7 | Tempe Sports Complex | 3 |
| 10/12/19 | 10:00 AM | Wolves vs. Tempe United F.C | o35 D1 | 1-6 | Tempe Sports Complex | 3 |
| 10/12/19 | 8:00 AM | International vs. SAFA AZ | o35 D1 | 0-6 | Tempe Sports Complex | 4 |
| 10/12/19 | 10:00 AM | Gold Rush vs. Vikings | o35 D2 | 7-1 | Tempe Sports Complex | 4 |
| 10/12/19 | 8:00 AM | AZ Stars F.C vs. Beersonal | o35 D2 | 1-0 | Tempe Sports Complex | 5 |
| 10/12/19 | 10:00 AM | Barca vs. Hooligans | o35 D2 | 3-1 | Tempe Sports Complex | 5 |
| Week 6 | | | | | | |
| 10/19/19 | 8:00 AM | Fat Boys vs. Carlisle United | Open | 0-4 | Benedict Park | 2 |
| 10/19/19 | 10:00 AM | Buck United vs. Red Rock F.C | Open | 5-1 | Benedict Park | 2 |
| 10/19/19 | 12:00 PM | Wolves vs. SAFA AZ | o35 D1 | 1-7 | Benedict Park | 2 |
| 10/19/19 | 8:00 AM | Revenge F.C vs. Heavy Petting Zoo | Open | 1-2 | Benedict Park | 3 |
| 10/19/19 | 10:00 AM | Tempe United vs. AZ Fire | o35 D1 | 5-2 | Benedict Park | 3 |
| 10/19/19 | 12:00 PM | Beersonal vs. Vikings | o35 D1 | 3-1 | Benedict Park | 3 |
| 10/19/19 | 8:00 AM | Fine Young Canibals vs. International | o35 D2 | 0-3 | Benedict Park | 4 |
| 10/19/19 | 10:00 AM | Gold Rush vs. Barca | o35 D2 | 0-0 | Benedict Park | 4 |
| 10/19/19 | 12:00 PM | Hooligans vs. AZ Stars F.C | o35 D2 | 0-3 | Benedict Park | 4 |
| Week 7 | | | | | | |
| 10/26/19 | 8:00 AM | Heavy Petting Zoo vs. Green Flag | Open | | Benedict Park | 2 |
| 10/26/19 | 10:00 AM | Revenge F.C vs. Buck United | Open | | Benedict Park | 2 |
| 10/26/19 | 12:00 PM | Fat Boys vs. Red Rock F.C | Open | | Benedict Park | 2 |
| 10/26/19 | 8:00 AM | SAFA AZ vs. AZ Fire | o35 D1 | | Benedict Park | 3 |
| 10/26/19 | 10:00 AM | Fine Young Canibals vs. Tempe United F.C | o35 D1 | | Benedict Park | 3 |
| 10/26/19 | 12:00 PM | Wolves vs. International | o35 D1 | | Benedict Park | 3 |
| 10/26/19 | 8:00 AM | Barca vs. Vikings | o35 D2 | | Benedict Park | 4 |
| 10/26/19 | 10:00 AM | Hooligans vs. Beersonal | o35 D2 | | Benedict Park | 4 |
| 10/26/19 | 12:00 PM | Gold Rush vs. AZ Stars F.C | o35 D2 | | Benedict Park | 4 |
| 11/2/19 | | PLAYOFFS START | | | Benedict Park | |
| Week 9 | | | | | | |
| 11/9/19 | | PLAYOFFS | | | Benedict Park | |
| Week 10 | | | | | | |
| 11/16 | | CUP FINALS | | | TBD | |