Tri-Sport Social
Do you want to challenge your team's athletic prowess in a fun social environment? Here's your chance. The Tri-Sport Social will consist of teams competing in volleyball, flag football and soccer for the honor to be crowned champions!
If you have a team and want to join then email Tara at: moc/eugaelstropsza//arat
Want to play but do not have a team?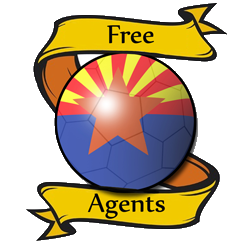 We love to have free agents join us in the Tri-Sport tournaments.  This is a great way for you or your small group of friends to expand your sport playing family.  Simply send us a request through the free agent website about your desire to play in the Tri-Sport tournament and we'll be in touch.
Next Tournament:
Park: Horizon Park Scottsdale
Date: May 19th
Time: 4am till 10pm
More specific details:
Tournament games will have six players, you can and should have a roster around eight or ten players, but the actual sports will be designed to have six players at one time.
Teams will be placed into groups of four.
Each team will play one another in their group at each sport and the team with the highest number of points will advance to a single elimination round.
Two teams in a group will play each other in all three sports with the winner of the "set" of games getting three points. If the teams tie in the set they each get one point.
Then the teams will play another team in their group in all three sports.
Each sport will last roughly 20 minutes with a rest period between games before moving onto the next sport.
Mystery sport will be played to determine the winner and in event of ties for the single elimination rounds.
PLEASE NOTE: You'll be playing three games against each of the teams in your group, then you'll play the three games against another team in your group, one that is done you play the final team in your group.  Basically you'll be playing three different sports a minimum of three times, nine total games.  Even though the games are 20 minutes in length you'll be exhausted. You only need six players per game but we strongly suggest having subs so everyone can take breaks.