VOLLEYBALL

Social Fun Volleyball League's For All Skill Levels 
New Season in Tempe Thursday Nights October 11th! E-Mail Mark@azsportsleague.com to sign up.
As with all our other leagues, we strive to provide a casual and fun volleyball events for everyone to enjoy.  We run various volleyball leagues and volleyball tournaments throughout the year with the focus on adult players.  Current league's are in Tempe, Scottsdale and Glendale.
Our League
Arizona Sports League is not only a great way to meet people but a great way to meet people while hitting a ball around. Are you tired of hanging out by yourself at home? Do you want to get out and meet new people? Do you like to stay active? Well great news!!! Arizona Sports League offers Volleyball year round.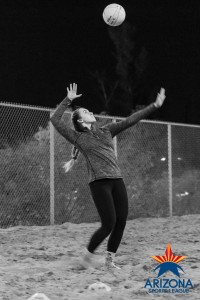 Volleyball League / Tournament format
Volleyball teams will be expected to field 4 players aside and each team is allowed to have up to 4 substitutes.
Let us know if you can form a whole team or if you would rather sign up as a Free Agent and be placed on a team. We look forward to seeing you at our next Volleyball Tournament!
Volleyball Tournaments
Arizona Sports League Volleyball is adult based and offered throughout the year. We organize the Volleyball Tournaments so all you need to do is show up and play.
Volleyball Tournaments usually last one day allowing teams to organize and have fun without giving up their whole weekend. The tournaments are set up Round Robin style in order to guarantee each team plays multiple games. The Volleyball games are scheduled back to back with little breaks in between to minimize players having to sit around and wait for their next game.
Free Agents
Looking to play volleyball?  Don't have a team?  No worries, simply fill out our free agent form to get in our database.  Free Agents
[/one_half_last]
Volleyball Schedule – Thursdays Tempe (Kiwanis Park)
| | Court 1 | Court 2 | Court 3 |
| --- | --- | --- | --- |
| Week 1- 8/9 | | | |
| 7:15 PM | Bomb Diggity v Kiss My Ace | Sandy Pits v Net Results | Ball Diggers v How I Set Your Mother |
| 8:15 PM | Basic Beaches v Bump & Save | Debt Dominators v Notorious D.I.G | Dat Ace Doe v New Kids on the Block |
| 9:15 PM | The Monastery v Blair Hits Project | We Always Get it Up v One Hit Wonders | Some Spike it Hot v Service with a Smile |
| Week 2 – 8/16 | Court 1 | Court 2 | Court 3 |
| 7:15 PM | The Monastery vs Net Results | We Always Get it Up vs Basic Beaches | Notorious D.I.G vs Bomb Diggity |
| 8:15 PM | New Kids on the Block vs Service with a Smile | Blair Hits Project vs Bump&Save | Some Spike it Hot vs One Hit Wonders |
| 9:15 PM | Debt Dominators vs Sandy Pits | Ball Diggers vs Kiss My Ace | Dat Ace Doe vs How I Set Your Mother |
| Week 3 – 8/30 | Court 1 | Court 2 | Court 3 |
| 7:15 PM | New Kids on the Block vs We Always Get it Up | Blair Hits Project vs Debt Dominators | Dat Ace Doe vs The Monestary |
| 8:15 PM | Ball Diggers vs Bump&Save | One Hit Wonders vs SandyPits | Service with a Smile vs Kiss My Ace |
| 9:15 PM | Basic Beaches vs Bomb Diggity | Some Spike it Hot vs How I Set Your Mother | Notorious D.I.G vs Net Results |
| Week 4 – 9/6 | Court 1 | Court 2 | Court 3 |
| 7:15 PM | Net Results vs Debt Dominators | Blair Hits Project vs Notorious D.I.G | New Kids on the Block vs Bump&Save |
| 8:15 PM | How I SetYour Mother vs Sandy Pits | Basic Beaches vs Dat Ace Doe | Some Spike it Hot vs Bomb Diggity |
| 9:15 PM | Kiss My Ace vs One Hit Wonders | We Always Get it Up vs Ball Diggers | The Monestary vs Service with a Smile |
| Week 5 – 9/13 | Court 1 | Court 2 | Court 3 |
| 7:15 PM | Basic Beaches vs Notorious D.I.G | New Kids on the Block vs Bomb Diggity | How I Set Your Mother vs The Monestary |
| 8:15 PM | One Hit Wonders vs Ball Diggers | We Always Get it Up vs Service with a Smile | Blair Hits Project vs Sandy Pits |
| 9:15 PM | Bump&Save vs Dat Ace Doe | Kiss My Ace vs Net Results | Debt Dominators vs Some Spike it Hot |
| Week 6 – 9/20 | Court 1 | Court 2 | Court 3 |
| 7:15 PM | Dat Ace Doe vs Kiss My Ace | Bump&Save vs Some Spike it Hot | Debt Domintors vs Bomb Diggity |
| 8:15 PM | Net Results vs How I Set Your Mother | Ball Diggers vs Basic Beaches | Notorious D.I.G vs Sandy Pits |
| 9:15 PM | One Hit Wonders vs Service with a Smile | We Always Get it Up vs Blair Hits Project | The Monestary vs New Kids on the Block |
| Week 7 – 9/27 | Court 1 | Court 2 | Court 3 |
| 7:15 PM | Notorious D.I.G vs How I Set Your Mother | Sandy Pits vs Ball Diggers | Bomb Diggity vs.Bump&Save |
| 8:15 PM | Debt Dominators vs We Always Get it Up | New Kids on th Block vs Net Results | Some Spike it Hot vs Kiss My Ace |
| 9:15 PM | The Monestary vs Basic Beaches | One Hit Wonders vs Blair Hits Project | Dat Ace Doevs Sevice wit a Smile |
| | | | |
| Playoffs- TBD | | | |
| Week 8 – 10/4 | Court 1 | Court 2 | Court 3 |
Volleyball Standings – Thursdays Tempe
| East | P | W | L | Pts | | | |
| --- | --- | --- | --- | --- | --- | --- | --- |
| Kiss My Ace | 5 | 1 | 4 | 3 | | | |
| Debt Dominators | 5 | 3 | 2 | 9 | | | |
| Net results | 5 | 2 | 3 | 6 | | | |
| Notorious D.I.G | 5 | 2 | 3 | 6 | | | |
| We Always Get it Up | 5 | 4 | 1 | 12 | | | |
| The Monastery | 5 | 2 | 3 | 6 | | | |
| How I Set Your Mother | 5 | 1 | 4 | 3 | | | |
| One Hit Wonders | 5 | 2 | 3 | 6 | | | |
| Some Spike it Hot | 5 | 4 | 1 | 12 | | | |
| | | | | | | | |
| West | P | W | L | Pts | | | |
| Basic Beaches | 5 | 1 | 4 | 3 | | | |
| New Kids on the Block | 5 | 0 | 5 | 0 | | | |
| Bump & Save | 5 | 3 | 2 | 9 | | | |
| Blair Hits Project | 5 | 5 | 0 | 15 | | | |
| Sandy Pits | 5 | 3 | 2 | 9 | | | |
| Bomb Diggity | 5 | 2 | 3 | 6 | | | |
| Filthy Pirate Sluts | 5 | 4 | 1 | 12 | | | |
| Dat Ace Doe | 5 | 5 | 0 | 15 | | | |
| Ball Diggers | 5 | 0 | 5 | 0 | | | |
| | | | | | | | |
| | | | | | | | |
| | | | | | | | |
| | | | | | | | |
| | | | | | | | |
| | | | | | | | |
| | | | | | | | |
| | | | | | | | |
| | | | | | | | |
| | | | | | | | |
| | | | | | | | |
| | | | | | | | |
| | | | | | | | |